If you need to process multiple payrolls with the same payment date and pay frequency you should use Tycom Bureau Payroll software. This system allows multiple payrolls to be set up which can have various departments (companies) within each frequency. These can then be processed all at the same time without the need to go into each company individually. To do this you would set up your payroll using the pay frequency required – please find an example below (click image to enlarge):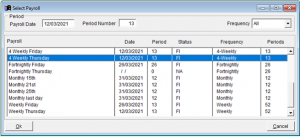 When setting up you would allocate the departments (companies) within each payroll.  In the screenshot below you can see that there are currently 7 departments (companies) set up which can all be processed at the same time within the payroll "4 Weekly Friday" (click image to enlarge).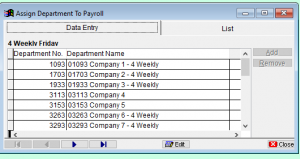 Tycom Bureau Payroll can process all these payrolls and run all the reports at the same time.  These can then be emailed to your chosen recipients. This can save you a lot of time.
Other advantages of Tycom Bureau Payroll include the ability to auto-enrol employees in your pension, create Inland Revenue reports and generate BACS files for Net Pay, HMRC, Pensions and Wages Arrestment.