Video conferencing offers opportunities for collaboration, productivity, and increased engagement with colleagues, stakeholders, and customers all without the hassle (and cost) of traveling to an in-person location. 
Video conferencing is a cost-effective opportunity to have face-to-face interactions with colleagues, prospects, stakeholders, or customers. It's more personal and engaging than a phone call, and it's much cheaper and more efficient than paying to commute — or fly — to a physical location to meet someone for an in-person conversation.

 

Like mentioned above, video conferencing offers an opportunity for more personal connection. Eye contact, facial expressions, and body language are cues we use to effectively communicate with one another on a daily basis — and those cues are all lost in a phone or email conversation.  

 

Video conferencing can increase your team's productivity, since it limits the amount of time you spend running to conference rooms in-between meetings, driving to meet a client, etc.

 

Video conferencing can foster increased collaboration, as opposed to email. For instance, if I hear an interesting project a colleague is working on, I'll ask them to join a quick video call with me so we can discuss opportunities for collaboration — which is much more efficient than emailing about it.

 
Let's dive into the most impressive video conferencing equipment we've found for SME businesses. 
The Bose VB1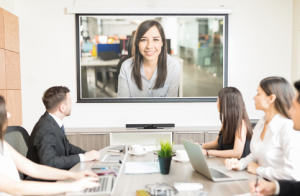 The Bose Videobar VB1 is an all-in-one USB conferencing device that brings premium audio and video to small meeting areas — from huddle spaces to medium-sized rooms. Be seen clearly. Be heard and understood fully. Six beam-steering microphones automatically focus on voices in the room and reject noise. 
A 4K ultra-HD camera with autoframing delivers crystal-clear video, helping remote participants feel like they're in the room. Proprietary Bose sound supports multimedia presentations, plays Bluetooth® audio, and ensures voices on the call sound natural. Single-cable connectivity means there's no need for separate audio and video cables at the table, reducing clutter.  
Whether it's a quick morning check-in or a full-afternoon workshop, the Bose Videobar VB1 helps you huddle up, see more, hear more, and work better 
The Logitech Rally plus system (for larger rooms)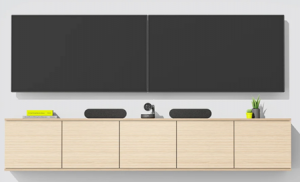 The Logitech Rally Plus (with 2 speakers and mics) delivers studio-quality video, unmatched voice clarity, and RightSense automation for better meetings with video conferencing applications that work with USB devices, including Zoom, Google Hangouts Meet, Microsoft Teams, and more. With modular audio, thoughtful cable management and premium finishes, Rally integrates beautifully into medium and larger rooms. 
Studio Quality Video – Rally Plus delivers brilliantly sharp video, outstanding colour, and exceptional optical accuracy at resolutions up to 4K. Logitech's RightLight technology optimizes light balance to emphasise faces and render natural-looking skin tones, even in dim or backlit conditions.
Advanced Modular Audio – Crystal-clear audio is essential for world-class video conferencing, and Rally Plus excels in delivering sound that's natural, crisp, and highly intelligible. Logitech RightSound enhances voice clarity by suppressing background noise, auto-levelling voices, and focusing on active speakers. Exquisitely sensitive mic pods ensure that everyone in the room can be clearly heard while the stand-alone speakers fill the room with rich, true-to-life sound. Easily add more mic pods for greater audio coverage in larger rooms.

 
Sleek Modern Design – Every component in the Rally Plus system features premium industrial design suitable for any professional setting. Even as Rally Plus helps everyone look and sound great during video meetings, each part of the system looks great in its own right. The premium PTZ camera at the core of the system is elegantly finished in matte black with slate gray metal trim, complemented by sleekly designed audio components and accessories that look great in any room.

 
The Logitech Meet Up (for smaller rooms)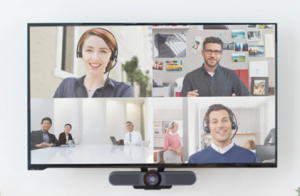 Designed for huddle rooms and other smaller spaces, MeetUp packs big features into a compact form factor. 
5X ZOOM – Perfectly frame presenters to minimise background distractions. Zoom in on whiteboards and objects so remote participants can see what you see. Thanks to its advanced 4K image sensor, video remains sharp and clear, even when you zoom in on the details.

 

PREMIUM CAMERA OPTICS – MeetUp features exquisitely engineered, premium camera optics that capture a wide field-of-view without distorting faces and furniture with a "fisheye" effect. Faces look natural, whiteboard writing remains legible, and straight lines stay straight.

 

EXTENDED RANGE – Logitech Expansion Mic for MeetUp provides greater flexibility in huddle room configurations. MeetUp's built-in beamforming mics are optimised for up to 4 meters. To extend that range up to 5 meters, add an Expansion Mic. So whether people are seated at a table, sitting against the wall, or walking around the room, Expansion Mic for MeetUp means everyone will be heard.

 

TAKE CONTROL – When you need to adjust the volume, mute the microphone, or take manual control over camera position, MeetUp' s remote control uses radio frequency (RF) signals for reliable and discreet control from anywhere in the room.
RIGHTSENSE TECHNOLOGIES – Logitech RightSense™ proactive technologies make better video meetings easy and automatic. RightSound optimizes the human voice and enhances conversational clarity, RightSight automatically moves the camera and adjusts the zoom so no one gets left out of the picture, and RightLight helps everyone look their best on camera, regardless of lighting conditions.

 
Microsoft LifeCam Studio for individual use 
Forget the hassle of picking up and moving your laptop around to get the right view—this webcam can pivot 360 degrees, so you can easily point the camera anywhere. And the built-in tripod thread lets you set up your camera on a tripod* so you can get out from behind your monitor and record long video captures from different angles. The ultra-wideband microphone captures sound from all over the room, not just in front of the camera. 
Full 1080p HD sensor delivers superior sharpness and image quality.

 

A high-precision, wide-angle glass element lens provides advanced optics.

Experience smooth, detailed video thanks to ClearFrame Technology.

Brighten your video calls with TrueColor Technology.

High-fidelity microphone for more natural, detailed audio.
HP Elite Display Screen (23.8 or 27") Integrated Displays with pop up webcam 
Connect and collaborate in complete comfort on the HP EliteDisplay Monitor, which is Microsoft Teams certified for optimal video and audio experiences.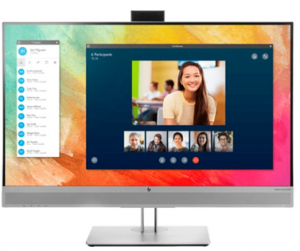 Connect and collaborate in complete comfort on the HP EliteDisplay 23.8 Inch or 27 Inch screen.
Pop-up 720p integrated HD webcam.

Dual Digital Bang & Olufsen microphones and integrated speaker bar.
If you would like to explore any of the options above, please don't hesitate in contacting us, as we have a Video Conference solution to fit your requirements.